Saskatchewan 2022 Budget Highlights
On March 23, 2022, the Saskatchewan Minister of Finance announced Saskatchewan's 2022 budget. This article highlights the most important things you need to know.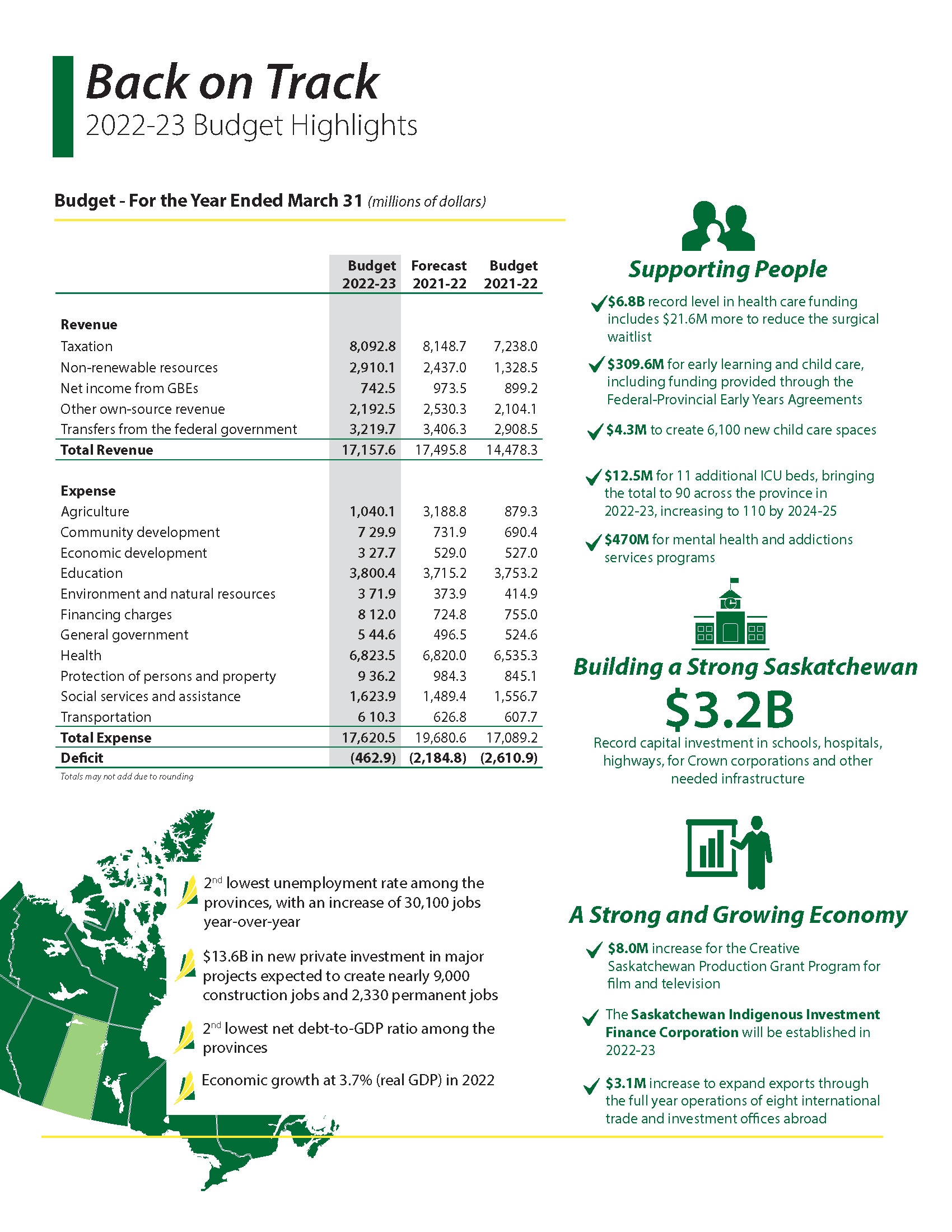 No Changes To Corporate or Personal Tax Rates
There are no changes to Saskatchewan's corporate tax rates or personal tax rates in Budget 2022.
Increased Value-Add Agriculture Incentive Tax Credit
Budget 2022 increases the tax credit rate for the Saskatchewan Value-added Agriculture Incentive up to 40%, depending on the amount being invested. This credit is only available for capital expenditures valued at $10 million or more for newly constructed or expanded value-added agriculture facilities in Saskatchewan, such as canola crush facilities and pea protein processors.
Increased Technology Start-Up Incentive Tax Credit
This initiative offers a non-refundable 45% tax credit to anyone investing in eligible start-up businesses that are either developing new technologies or applying existing technology in a new way. Budget 2022 increases the annual cap of the Saskatchewan Technology Start-up Incentive tax credit to $3.5 million per year.
Changes in Education Property Taxes
Budget 2022 increases the mill rates (amount of tax payable per dollar of a property's assessed value). The new education property tax rates are as follows:
Agricultural — 1.42 (from 1.36)

Residential — 4.54 (from 4.46)

Commercial/Industrial — 6.86 (from 6.75)

Resource — 9.88 (from 9.79)
Changes In PST Charges
Budget 2022 includes two PST changes. Audiobooks will be exempt from PST sales as of April 1, 2022. As of October 1, 2022, PST will be charged by various places that charge admission, including sporting events, concerts, museums, and fairs. It will also be applied to gym memberships and golf memberships.
Improvements In Child Care Options
Budget 2022 commits over 300 million dollars to improve child care options. The money is committed as follows:
$309.6 million for early learning and child care. This includes funding provided via the Federal-Provincial Early Years Agreements.

$4.3 million to create 6,100 new child care spaces.
Helping The Healthcare System Thrive
Budget 2022 also commits a record 6.8 billion to help the healthcare system thrive. The money is committed in a variety of areas, including:
$21.6 million to reduce the surgical waitlist.

$12.5 million for 11 additional ICU beds. The government's goal is to bring the total of ICU beds in the province to 90 by 2022-23, increasing to 110 by 2024-25.

$470 million for mental health and addictions services programs.
We can help!
We can help you determine the effect of tax changes in this year's budget on your personal or business finances. Get started today and give us a call!
https://prairielilyfinancial.com/wp-content/uploads/2022/03/Saskatchewan-Budget-2022.jpeg
667
1000
Financial Tech Tools
https://prairielilyfinancial.com/wp-content/uploads/2020/09/prairieLilyFinancail.png
Financial Tech Tools
2022-03-25 18:28:06
2022-03-25 18:42:16
Saskatchewan 2022 Budget Highlights